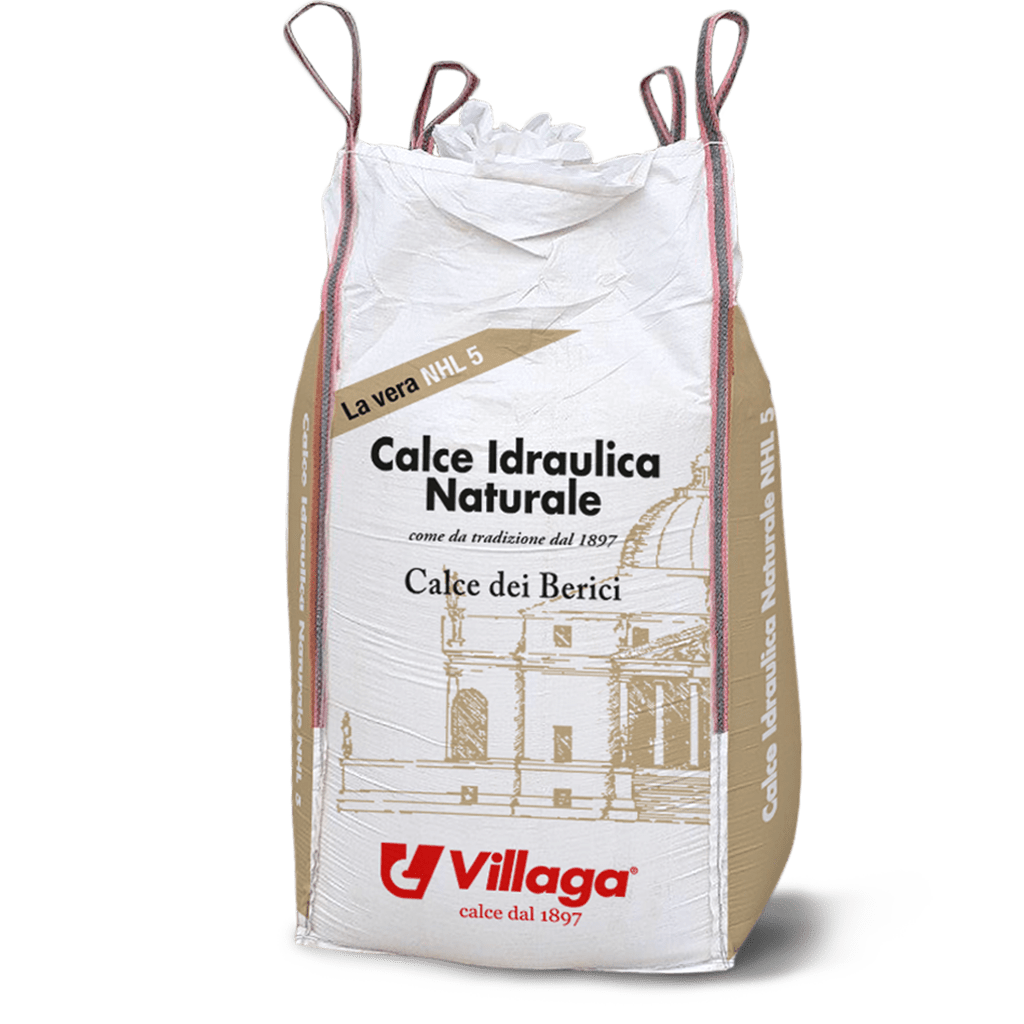 Natural hydraulic lime – the true NHL 5
Perfect for use on site in masonry mortars, plasters and renders, NHL 5 pure natural hydraulic lime is light hazel in colour. This lime is classified as NHL 5 in terms of mechanical strength, in accordance with EN 459-1:2010. Its high porosity provides the walls breathability against humidity and mould, while its very low water-soluble salt content ensures a long-lasting, high quality aesthetic result. Finally, its pH makes NHL 5 hydraulic lime a natural mould inhibitor.
Technical features
| | |
| --- | --- |
| Apparent vol. mass | 0,74 ÷ 0,84 Kg/cm3 |
| Compressive strength after 7 days | ≥ 2 N/mm2 |
| Compressive strength after 28 days | ≥ 5 N/mm2 |
| Compressive strength after 90 days | ≅ 8,5 N/mm2 |
| Time to begin setting | > 2 hours |
| Stability | < 1mm |
| SO3 | < 0,2% |
| Free lime | > 15% |
| 90µm sieve residue | < 4% |
How to use NHL 5 natural hydraulic lime
NHL 5 lime is supplied in bulk, in sacks or in big-bags. It is recommended to store NHL 5 in a dry, sheltered place for a maximum of 6 months.
NHL 5 natural hydraulic lime is used for the preparation on site of:
Masonry mortar
Lime plasters and renders for interior and exterior building restoration
Grout
Natural hydraulic lime injections
Sealing
Floor screeds
Natural hydraulic lime paints without additives
High-level finishes
Products for consolidating masonry with natural hydraulic lime
How to use NHL 5 natural lime
NHL 5 natural hydraulic lime must be mixed with carefully washed and well-graded aggregates, in volumetric doses typically between 350 and 500 kg of product per cubic metre of aggregate. After mixing NHL 3.5 lime with water, leave the mixture to rest for 10-15 minutes to improve workability.
See the NHL 5 natural hydraulic lime datasheet for further information.
What to pay care to when using NHL 5 lime
The lime's 5 strength classification is laboratory-certified in accordance with EN 495-2; the mechanical strengths obtainable on site may vary according to numerous factors, such as temperature, humidity, the amount of binder and water used and the type of aggregate. It is therefore recommended to fine-tune the NHL 5 lime mixture based on practical tests.
The mixture with NHL 3.5 pure natural hydraulic lime should only be applied at ambient and substrate temperatures between +5°C and +30°C and in the absence of wind.
For other information see the NHL 5 hydraulic lime datsheet and the safety datasheet.
Do you want to find out all the features and the cost of NHL 5 natural hydraulic lime? Contact our technical staff.